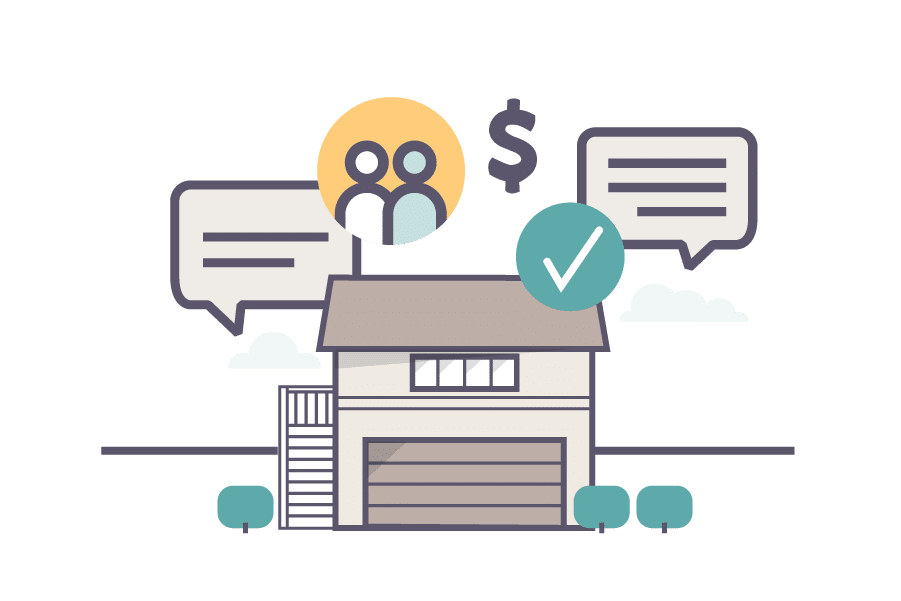 How Much Does it Cost to Build an ADU?
There's something very appealing to having a fully-functional, separate living space on your property. Whether you call it a granny flat, mother-in-law suite, or an above-garage apartment—ADUs (Accessory Dwelling Units) are taking the Twin Cities by storm.
The most popular type of ADU is an apartment over a garage. But to be honest, people are usually shocked by the cost, wondering why we can't simply stick a second level on top of an existing garage. Since these are such popular projects for people to ask about we thought we'd break those costs down for an actual project to help people understand. Below is a cost breakdown for a fully-functional, finished studio apartment above a new garage in South Minneapolis.
To put this into perspective, this ADU is pretty modern and awesome, but it's on the lower end when it comes to budgets that we put together for these types of projects.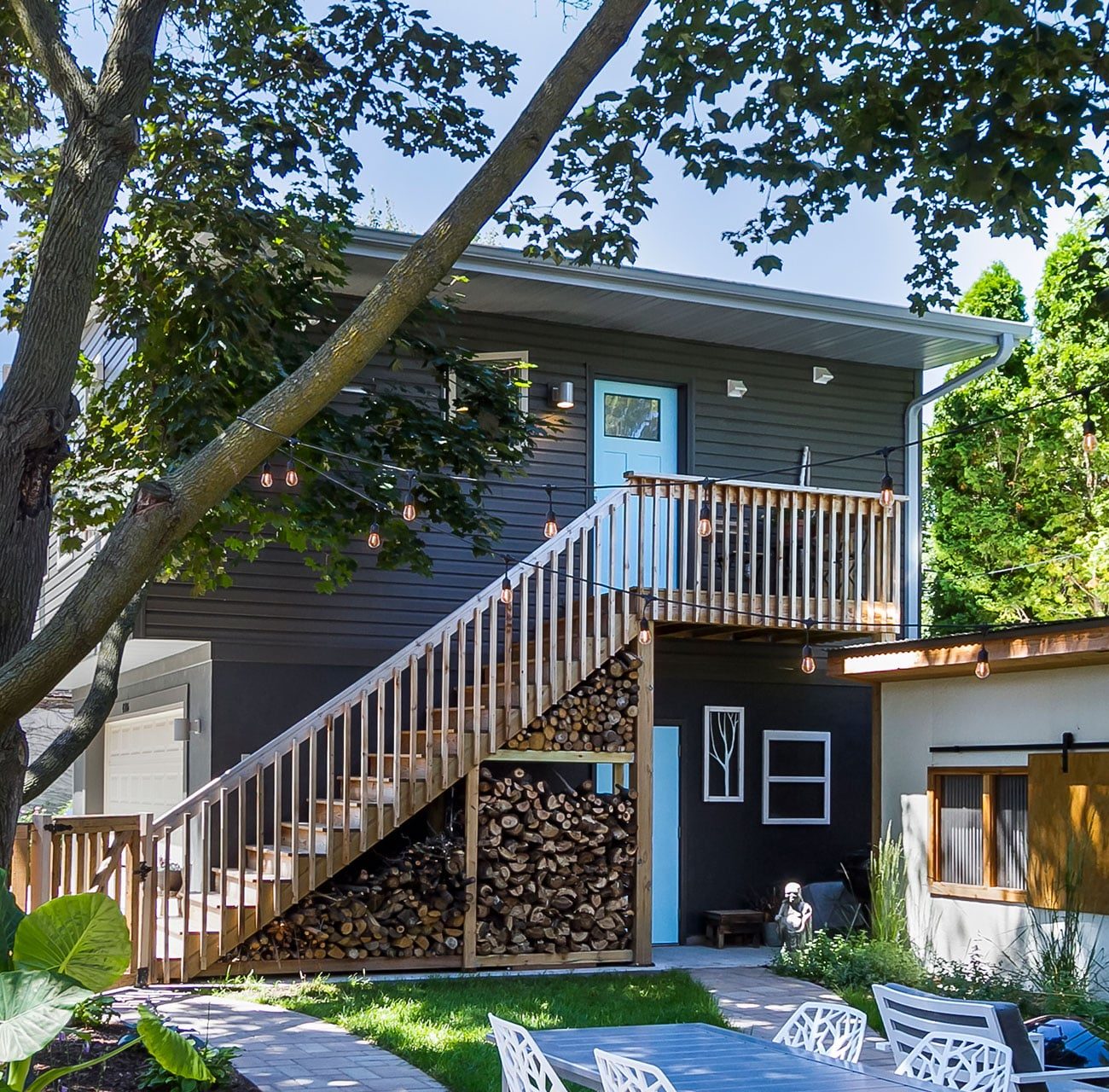 Fully Finished Studio Apartment Over a Garage
Total cost including design & construction: $393,000 and completed in 14 weeks!
22'x22' Garage
22'x24' Studio Apartment Above
¾ Bath With Laundry
Granite Countertops
Kitchenette (Includes Cooktop, But No Oven) + Dishwasher
Exterior Staircase
Here's the breakdown:
1. Design, planning, permits, set up, and project management fees $56,250
The best part about working with a design-build company is they take care of everything. Our team worked with this client on the design, weighing the benefits of open floor plans vs. adding walls, and how that would impact the space. We recommended fixtures and finishes that matched their style (and budget) while incorporating any unique elements that came up. We also jumped through all the hoops with the city to make sure all permits were taken care of (which can be extra tricky with ADUs), ensuring that building this ADU went off without a hitch! Demolition, dumpster, satellite toilet, and clean up is included in this cost.
On time and on budget, and keeping you in the loop every step of the way, this is the project manager's job, and it's essential in every White Crane project. Project managers coordinate with all of the trade partners, from demo to all the finish work. For this ADU, the homeowner was pleasantly surprised by the near-daily communication throughout the process.
2. Structural engineering fees $2,915
Every project is engineered to be rock solid. A lot of people interested in ADUs are surprised that they typically can't use their existing garage, but unfortunately, traditional garages aren't built with the proper foundation that would prevent settling with a significant structure built on top of it. The final plans will be engineered to make sure your renovation is structurally sound.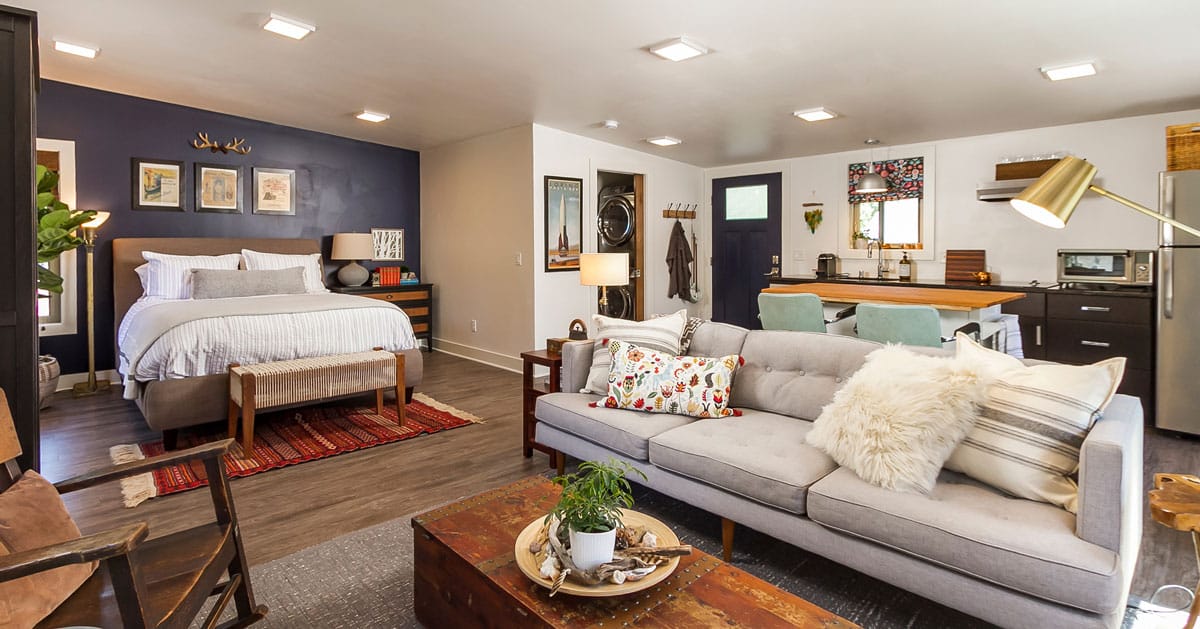 3. Construction Costs $333,835
Building an ADU is like building a small house. Construction costs include demolition of the old garage, excavation, framing, electrical, plumbing, heating/cooling, insulation, windows, doors, siding, drywall, carpentry, and custom cabinets – this is where a majority of costs come in. Every ADU requires several trade partners (subcontractors) to pull this off. At White Crane, we've been in business long enough to know that it pays to work with the best partners. And those partners appreciate us too. We firmly believe finding the best people and keeping them busy will produce better results, faster. You'll love our trade partners because they love what they do, they're trustworthy, and they're masters of their craft.
Here is a breakdown of total construction costs:
$199,515 Foundation, Framing, Rough Carpentry, Mechanicals (plumbing, heating, ventilation, cooling, electrical) – Electric, water, sewer… every ADU is a little different. In Minneapolis, ADUs are required to tie into the primary home's water/sewer. For this project, we had to trench into the homeowner's finished basement, which added costs outside of the typical range. Every remodel has hidden surprises like this, but fortunately, we do our work upfront and everyone was aware of this part of the project before we started. Also, by code, this type of garage ADU must have a foundation with a frost footing.
$66,885 Exterior Doors, Windows, Insulation, Exterior Finishing (siding, roofing, trim, gutters)
$15,600 Cabinetry, Countertops
$10,560 Flooring (Hardwood, Carpet, Vinyl, etc.)
$36,400Finishes (drywall, finish carpentry, tile, paint, closet systems)
$4,875 Plumbing Fixtures, Light Fixtures, Cabinet Hardware, Accessories, Mirror, Shower Glass
While this specific project is more on the entry-level side, ADU pricing can jump up quite a bit from there. Options like interior steps, or higher-end finishes (to name a few things) would increase the budget. While those options won't add exponentially to the cost, it doesn't take much to get into the $500K range.
If you have other questions on ADUs, feel free to contact us, we're happy to answer any questions or put you in touch with homeowners who recently built ADUs. Most of them are utilizing their ADUs to generate revenue through short-term rentals, which end up offsetting most, if not all, of the costs.
Want to learn more about the process of building a finished ADU? Look inside building a garage apartment in Minneapolis.