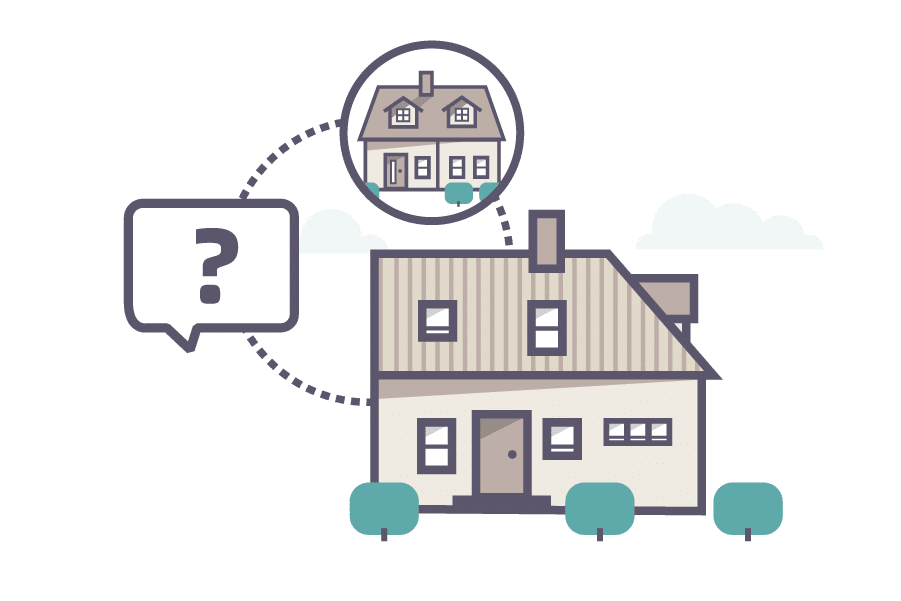 What are shed dormers and why are they so popular around here?
Minneapolis and St. Paul are filled with story-and-a-half homes that are perfect for a certain kind of home addition, called a shed dormer. We sat down with Nicole Slaminski-Hawes, a senior designer at White Crane Design:Build, to learn the basics about this popular remodel. Here's what she had to say.
I hear a lot of people talk about wanting a shed dormer. What exactly is it?
Nicole: A shed dormer is a type of addition that's typically done on a story-and-a-half-style house. Basically, the front of the house stays the same, keeping its curb appeal, but we take off the back half of the roof and lift it up, almost making it flat on the back half—so it gives us full height in that part of the upstairs.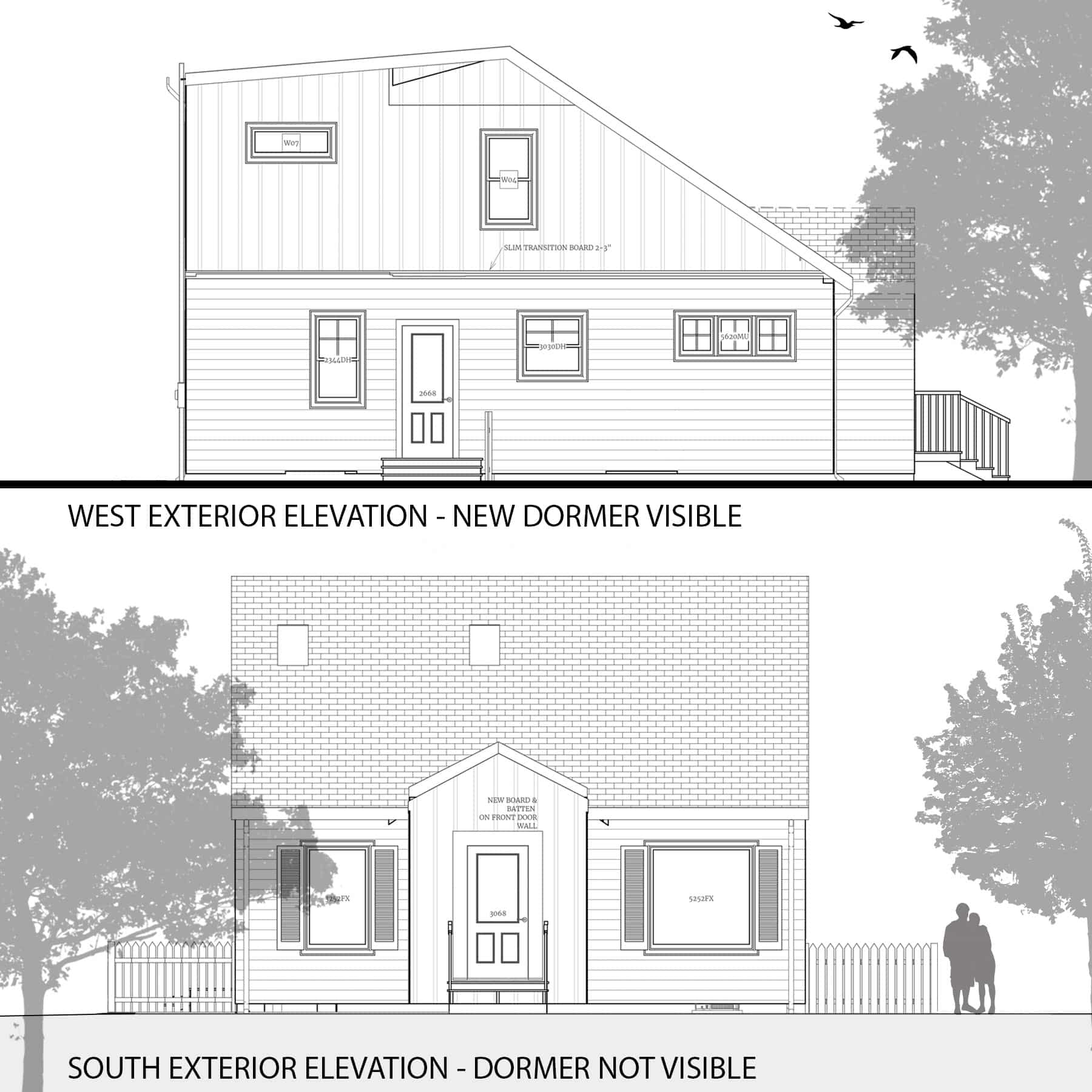 What types of spaces are people looking to create by adding a shed dormer?
Nicole: I got tons of calls for shed dormers in 2020 and early 2021 because everyone was working from home and wanted to move their bedrooms upstairs to free up space for a main-floor office. Right now I'm working with families who need bigger bedrooms as their kids are getting older. Some people do a shed dormer because they want to create an artist's studio or make room for a home business. Others want to completely reimagine their main floor, and moving the bedroom upstairs frees up all kinds of possibilities.
What's one of the most common reasons for doing a shed dormer?
Nicole: Many times it's driven by wanting a bathroom upstairs. A bathroom has some very critical points that require a head height of 6'8" (by the toilet, above the vanity, and in the shower), and most attics can't accommodate that height in those key spots without a full or partial shed dormer.
What are the advantages of doing a shed dormer versus a standard addition?
Nicole: For one, there's not nearly as many zoning restrictions. You don't have to do any excavation to your lot or disturbance to your landscaping. And if you have a small lot, which is typical in Minneapolis, you don't necessarily want to eat that up with an addition. So this is a really cool way to add square footage. Another great thing is you can keep all the sunlight you currently have on your main level. If you have a kitchen with windows on two sides or you get sunlight that's really awesome in your backyard, doing a standard addition would interrupt some of that light, while a shed dormer won't.
How much does a shed dormer cost?
Nicole: Any shed dormer project is typically going to need all the same elements—the design, the framing, the insulation, HVAC, plumbing, all those things. If we're not touching the roofline, an attic remodel might start around $175k—but there are only certain homes where this can work. You've got to have a really tall upstairs to start with so we have room to fit the bathroom pieces up to code. A partial shed dormer would start around $190,000 and a full shed dormer that goes along the whole width of the house will probably be around $260,000.
That's not a small investment. Does a shed dormer increase the value of the home?
Nicole: Generally, yes. A shed dormer adds what I call "statistics" to the house—you're going from a two bed/one bath to a three bed/two bath, which usually increases the value. And  with a full shed dormer, we can typically almost double the square footage of the upstairs.
How do homeowners typically afford a shed dormer?
Nicole: A lot of our clients work with future-value loans. Because you're adding on-paper statistical value and above-ground square footage, you can often borrow against what the home will be worth. So the bank appraises our plans, and you can borrow the equity that you currently have plus the equity that will be there.
What does the process look like?
Nicole: Typically, a homeowner will reach out and say, "We want to finish our attic." A lot of times, they don't know whether they need a shed dormer or not—they're just looking for a master suite upstairs. They don't always know building codes, of course, so we walk them through some questions and information to get started.
Some of the first questions we'll ask are: What is your peak head height currently in the attic? Is it 6'8″? Less? How steep is it up there? Is it finished or not? And then we'll just kind of talk general budget ranges with them. Unless they've done some pre-research before coming to us, that first phone call involves a lot of education, and then they kind of go figure out financing and digest numbers. And then we can set up our next meetings to go from there.
Once we get rolling, we start with design and layout, we determine the preliminary budget, we walk the homeowner through options for materials, they make their selections, and then we oversee every step of the construction process, start to finish. The entire project can take about 6-8 months from initial home consult to finished construction.
As a designer, what do you enjoy about working on shed dormers?
Nicole: Shed dormers are so fun to design. I love the engineering part—it's fun to figure out the structural components of it. And then it's always like a good puzzle to put together. Half the roof is still low and the other half is tall. So how do you function? How do you move around successfully without feeling like you've got to walk sideways on one side?
What's the most challenging part, from a design perspective?
Nicole: The biggest challenge is engineering. We have to figure out how we're going to restructure the load points of the roof—which isn't a big deal, it's totally doable, but it's a big, big part of the project that's not typically needed with a standard addition.
This kind of addition adds quite a bit of extra facade to the home. How do you think about that as a designer?
Nicole: We'll show the client some options for how to handle that. You can either do an accent siding or, most of the time, we'll tie it into the existing siding. Some homeowners will also take this as an opportunity to replace all of their siding. One homeowner I worked with was like, "If we're going to do the siding, let's not add more of what we don't like."
As a designer, what do you think of shed dormers?
Nicole: I think they're fantastic. I myself lived in a story-and-a-half that had a finished attic without a bathroom, and we almost sold the house because there was no bathroom up there. It's a huge bonus to have bathrooms on the same floors as bedrooms. So I think they're fantastic.
Want to learn more?
See a shed dormer project in action. Follow along with the progress on a Cape Cod shed dormer here.
Ready to get started?
Our design team would love to help you figure out the best options for your remodel—so you can achieve all the goals you have for your home and your lifestyle. Set up a complimentary 15-minute consultation today and let's get your project started.